Another season, another reason, for making landscaping memories. We've had a busy year with our regular mows and services and we've also completed some special projects for customers that have transformed the look of their properties dramatically. Come along while we check out just a few…
Clearing out years of weeds and adding mulch and plants can make your yard visually appealing! Here is a before and after pic of one of our mulch installs. The difference is amazing! The homeowner was very happy with the results and we were thrilled to help with the transformation.
We've had multiple customers that have requested one-time mow services when their lawns have become overgrown or while their mowers were being repaired. Here is a picture of one such property. As you can see in the after pic, the lawn is now accessible and free of the snakes that had moved in (yes, snakes!). If you have an area that you'd like cleared, reach out.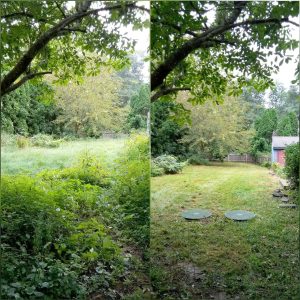 The crews did a driveway revamp at a client's home this year. With some loam, crushed gravel and edging stones they made what was once an ordinary drive into an extraordinary focal point in the landscape. If you need some help with your stone driveway, call us today!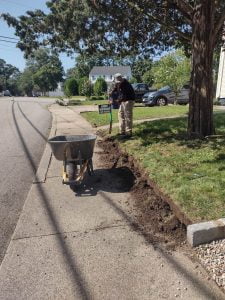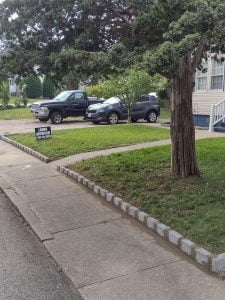 A quick afternoon job we recently completed was stacking some firewood for a lovely customer in Wickford. Do you have some chores that you need a hand with around your property? We can send one of our talented crews out to help you out. Want some plants divided and replanted (now is the time to divide your hostas and other hardy perennials) but don't know where to begin? We can take care of the job for you.
Here's another example of how a bit of gardening and mulch can transform your property. We think the results are amazing. What do you think? It's not too late to book a mulch install. Reach out for your free estimate. 
Need your hedges trimmed? Our gardening crew can help!
Fall cleanups start soon! If you haven't booked your cleanup, it's not too late. Contact us today and we'll send an estimate.
Whatever project you have in mind, let 855-RILAWNS help bring your vision to life!