Sustainable Fertilizing Program in RI
Thank you for sharing this excitement with us as we lead the way to a greener, more responsible planet!
At 855-RILAWNS, it has always been our goal to provide sustainable, low-maintenance, and environmentally-friendly landscapes to our customers in RI with our RI Organic-based Fertilizing Program.
As part of this goal, we have made the decision to drastically reduce and eliminate the use of pesticides and chemicals through Integrated Pest Management (IPM) and sustainable lawn care practices.
Our current fertilizer program is one simple, organic-based package, with optional upgrades of annual lawn aeration, power seeding and compost topdressing for optimal results. We are proud to offer our clients such a unique, innovative and earth-conscious program.
Charlestown Recommended Landscaper
The town of Charlestown has problems with Nitrogen in their groundwater which has prompted them to start a program with local landscapers. Each year, 855RILAWNS attends their meetings and training to continue to work with the town to improve our RI Organic-based Fertilizing Program and lessen effects on the environment. More information here.
Our comprehensive, organic-based fertilizing program includes:
Hudson Valley Natural organic-based fertilizer products in a 6-step program. We are committed to providing sustainable, earth-friendly lawn care and these products contain powerful bio-stimulants to help keep your lawn strong, lush and healthy all season long.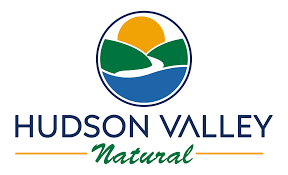 Step 1: Early Spring Lawn Booster with Crabgrass Pre-Emergent– One visit to your property in the early spring (4/1-4/30) to apply organic-based fertilizer with crabgrass pre-emergent to help prevent crabgrass. This application will give your lawn the boost it needs to green-up and and recover naturally from winter dormancy. 
Step 2: Late Spring Feeding & Lime Rejuvenator– One visit to your property in the late spring (5/1-6/15) to apply a balanced, organic-based fertilizer and lime to your lawn. This application will inherently stimulate new growth and strengthen your lawn, while also improving soil quality, pH and nutrient uptake.
Step 3: Bio-Infused Fertilizer with Grub Control– One visit to your property (6/16-7/15) to apply organic-based fertilizer with grub and insect control. This bio-infused fertilizer application will help to prepare your lawn for summer, while also preventing grubs and other surface and subsurface insects.
Step 4: Summer Lawn Protection– One visit to your property (7/16-8/15) to apply a gentle, yet balanced, summer fertilizer. This organic-based, slow-release fertilizer application will provide your lawn with naturally-occurring key nutrients and minerals during the hot summer months. It will also aid in disease resistance and will help to protect your lawn from heat and drought damage.
Step 5: Fall Feeding & Lime Revival– One visit to your property (8/16-10/15) to apply an organic-based fall fertilizer and lime to your lawn. This application will give your lawn the strength it needs to recover from the summer heat, while also improving soil quality, pH and nutrient uptake.
Step 6: Winter Preparation Fertilizer– One visit to your property (10/16-11/15) to apply a winter fertilizer to your lawn. This slow-release, organic-based fertilizer application will prepare your lawn for winter. It will also provide your lawn with essential nutrients and minerals to ensure overall health, and improve hardiness and bounce-back in the spring.
Upgrade Your Lawn Care Package With These Additional Services:
To achieve optimal lawn results, we recommend upgrading your regular lawn care package with our lawn add-on services, listed below. You can request these services, in addition to our regular, organic-based lawn fertilization program.
• Compost Topdressing with 16 micro nutrients and 17 amino acids not present in chemical fertilizers. Compost accelerates the breakdown of pesticide residue & adds bio-stimulated organic matter to your lawn.
• Core aeration to reduce thatch, soil compaction, and improve the flow of water and nutrients to the root zone. (See details below)
• Power seeding to naturally thicken lawn and discourage weeds. Not to be confused with "over seeding" – slice seeding is a much more labor and equipment extensive process, but provides far superior results.
Why Is Lawn Core Aeration so important to lawn health?
Core aeration is simply one of the best things you can do for your lawn. You can choose to upgrade your lawn care package with this service.
5 benefits to lawn aeration:
1) Reduces thatch build-up – A heavy thatch layer promotes disease and insects.
2) Reduces soil compaction – Compacted clay soils inhibit root growth and water penetration.
3) Stimulates new root growth – Root systems will grow back thicker, stronger, and deeper.
4) Creates more efficient watering and fertilizing – Water, air, and fertilizer can easily penetrate the soil.
5) Essential in keeping root systems strong and healthy -A healthy root system creates thicker turf, increases heat and drought tolerance, reduces weed and crabgrass growth, and decreases disease and insect damage.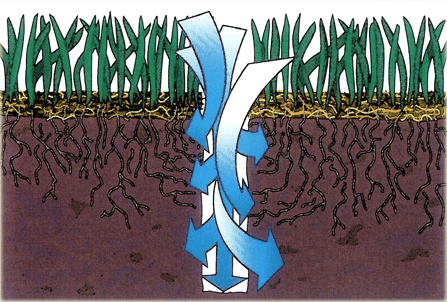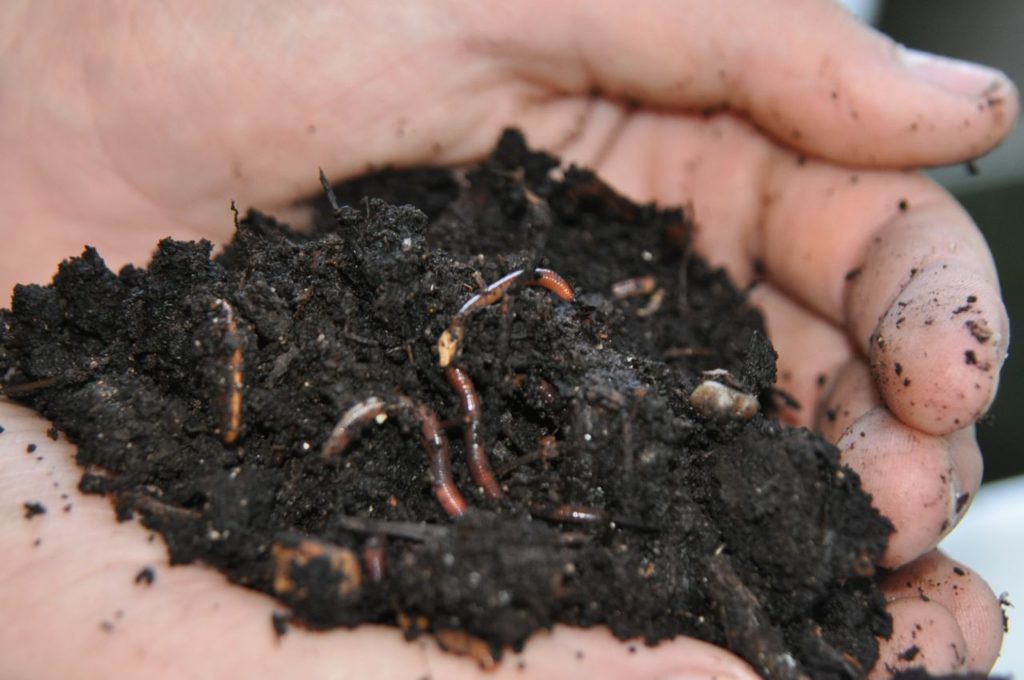 Benefits of Compost on your Lawn
1. Provides a natural and sustainable source of soil fertility, diminishing or eliminating a soil's requirements for artificial fertilizers.
2. Increases the biological and chemical soil composition because it carries many beneficial microorganisms not found in chemical fertilizers.  Increases earthworm populations and overall amount of life wherever put down.
3. Helps the lawn withstand extremes of weather by increasing the organic matter, drainage and aeration of soil.
4. Increases the lawn's ability to intake and hold water, minimizing the need for watering.
5. Will not burn the lawn or cause excessive superficial, lush growth.
6. Increases soil organic matter content that results in higher cation exchange capacity. This makes soil nutrients more available to plants and reduces leaching loss.
7. Creates a healthier lawn that is less susceptible to fungus and insect problems.
8. Has a pleasant, earth-like smell
9. Does not acidify soil like many chemical fertilizers, minimizing the use of limestone needed on your property. Compost has a very close to neutral pH.
10. Gives you personal satisfaction knowing that you are doing what is right for the environment and working in harmony with nature.
Unlike most lawn companies, soil testing is performed on your property when needed. This scientific analysis allows us to make sure we are applying exactly what your lawn needs- not too little, not too much!
Please fill out the form below to request a quote.
What you can expect with 855-RILAWNS!
✔️Our employees are fully-background checked and uniformed.
✔️We have full-time office personnel to answer the phone and any questions or concerns.
✔️We have $1,000,000 liability and workers compensation insurance.
✔️We are reliable- we come as scheduled. Period.
✔️We offer text message notifications of dispatched work.
✔️We offer convenient autopay by credit/debit card.
✔️Our mowing blades are sharpened daily for a healthy, clean-cut lawn.
✔️Our organic-based fertilizing program is safe for kids & pets.
✔️We offer a 100% satisfaction guarantee.