---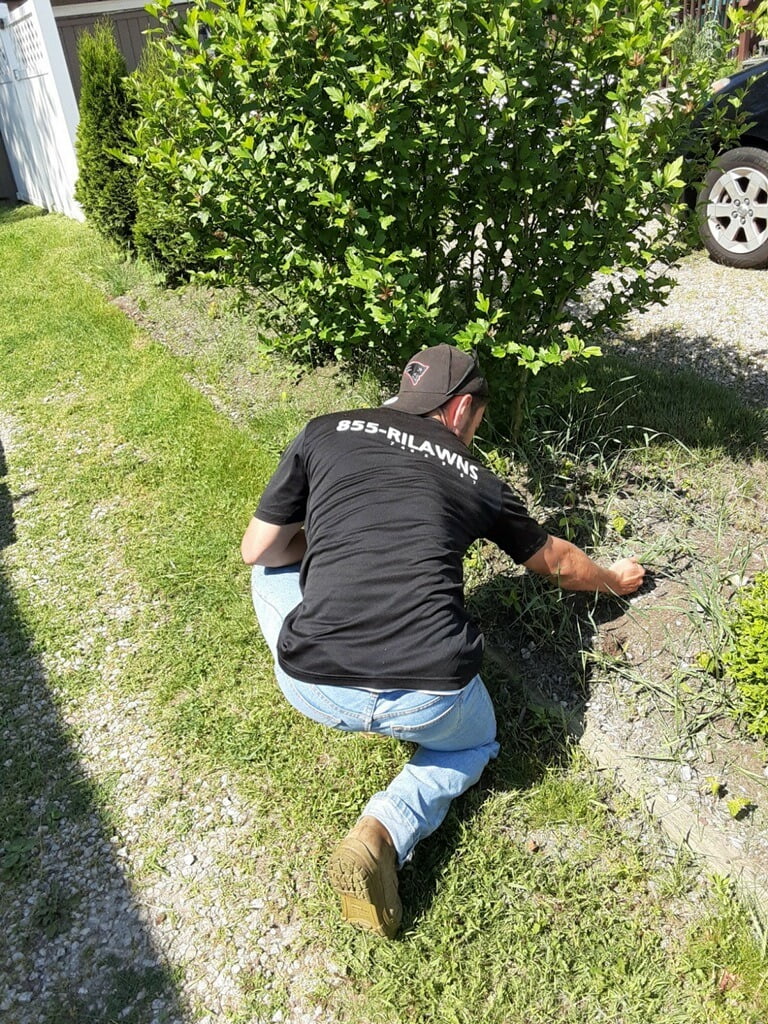 RI Gardening Services
At 855RILAWNS we offer one time visits, or routine gardening services where we tend your garden beds 9 times per year.
On each visit, we will address the following issues you may have:
1) Weeding- Removal of undesired, unwanted, and wild annual plants from garden beds.
2) Edging- Edge existing garden beds.
3) Trimming of formal hedges- Shear formal hedges on property; remove debris.
4) Pruning- Shrubs will be pruned or trimmed as deemed necessary by the horticulturalist on staff for optimum flowering, shape, and appeal.
---
Our approach to RI gardening and installs is in harmony with the environment. We believe in planting and building sustainable ecosystems that are diverse, colorful and soulful. We believe in blending textures, colors and functions to create a fit for your home, that looks natural, is low maintenance, and is enjoyable throughout the year.
When we create a landscape we want you to have something you can enjoy to the most and spend the least amount of energy maintaining. It is landscape that maintains itself. It is a landscape that creates enough shade for itself, because the lack of light is the natural weed control. It is a landscape that contains perennials that come back each year without any energy from you or additional resources. It is a landscape that attracts wildlife and domesticated life when it needs to be and a landscape that repels wildlife when it doesn't. It is a landscape that protects from erosion, a landscape that doesn't interfere with powerlines, driveways or other obstacles. It is a landscape that controls soil moisture when it needs to, and works as a fireproof when it needs to. It is a well balanced addition to the outside of your home that neither is too full of native plants or foreign plants where everything tries to be in harmony.
Consultation
Our gardening service begins with an on-site consultation with our RINLA certified horticulturists who will listen to your ideas, assess the environmental conditions of your property and make recommendations to optimize the health and beauty of your landscape. From garden design and installation, complete bed renovation to long-term shrub and tree management, our gardening crew has the knowledge and skills needed to keep your yard the lush paradise you've always dreamed of.
The foundation of any healthy garden is mulch. A deep layer of pine, cedar or hemlock mulch is the first line of defense in a sustainable weeding program. The mulch blocks the light needed for many seeds to germinate, and the compounds found in the coniferous material actively discourage weed growth. In addition to supressing weed growth, the mulch acts as a protective layer on the soil, holding in moisture and providing an ideal environment for beneficial creatures such as earthworms and nematodes. Finally, mulch gives your landscape the manicured look that will make your yard pop!
Our mulching services can be customized to meet your needs but typically include a thorough, one-time weeding, edging or re-edging of beds and application of 3-4 inches of a mulch of your choice. Prices are based on sqft of garden area and the type of mulch selected. Contact the office for a
free quote
!
Pruning and Hedge Trimming Services
Our pruning program is focused on maintaining the balance of form, shape and color of your landscape design. Shrubs and small trees will benefit from our careful, regular hand pruning, allowing us to maintain your plants at their desired size and shape while keeping their natural habit intact. Weeping cherries to barberry, holly to japanese maple, all will all lend their unique feel to your landscape. Hedges and topiaries are maintained with regular shearing to keep them looking fresh and tight. Put our professionals to work for you and we'll guarantee your yard looks a cut above the rest.
Weeding Services
The basic premise of a sustainable weeding program is that with frequent, thorough hand-weeding our team will keep your gardens clear of invasive weeds such as mugwort, wood sorrell and bittersweet. With conservation and ecology in mind, we remove these species, which can spread rapidly, ruining the manicured look of your landscape, while allowing violets and other ecologically crucial plants to remain whenever possible. In addition to removing invasive species, or team will keep your flower gardens looking better than ever as perennials like echinacea, bee balm and daisies are continuously dead-headed throughout the season to keep the plants looking fresh and to extend the bloom.
Landscape Design Services
Additionally, we offer full RI landscape design services, from edging and mulching your garden beds with routine weeding, to transplanting. Transplanting is a great way to reuse plants and in some cases we will suggest it. Once installed and growing we can trim & prune your shrubs on a routine basis during the right time of the year to keep your landscape manicured and healthy. Since we buy in bulk with our landscaper prices we can get you the discounts you are looking for on those new shrubs you have always wanted.

What you can expect with 855-RILAWNS!
✔️Our employees are fully-background checked and uniformed.
✔️We have full-time office personnel to answer the phone and any questions or concerns.
✔️We have $1,000,000 liability and workers compensation insurance.
✔️We are reliable- we come as scheduled. Period.
✔️We offer text message notifications of dispatched work.
✔️We offer convenient autopay by credit/debit card.
✔️Our mowing blades are sharpened daily for a healthy, clean-cut lawn.
✔️Our organic-based fertilizing program is safe for kids & pets.
✔️We offer a 100% satisfaction guarantee.