Patios make great additions to any house for a multitude of reasons. They make your outdoor space more enjoyable and can provide you with years of enjoyment if designed and installed correctly. Regardless of the reason you might want one, whether it be for relaxation or entertainment, it is very important to create a comfortable outdoor space, especially during the warmer months. Patios increase the usable living space of your home and are multi-functional. They can be used as a space to read, eat, lounge, cook, and to host an array of other activities. Even if you choose not to use it as a dining area or as place to have parties or celebrations for your family and friends, patios are guaranteed to help improve and add to your home's value and create a fun atmosphere to use whichever bests fits your lifestyle.
A perk of getting a patio installed is the creative aspect of landscaping! Luckily, there is a variety of decorative stones, rocks and gravel that you can choose from that have multiple uses in and around your home. Other than patios, they can be used for mulch, ground cover, driveways and filler around pools! Your home's curb appeal relies heavily on how your landscaping looks relative to other homes in your neighborhood.
In recent years, pavers have been very popular – the more common styles being clay and stone. Clay pavers will last a lifetime and stone can add an elegant and sophisticated look to your backyard. However, you should know that natural stone, brick and concrete are the three most basic types of paver materials; there are a wide variety of colors and styles to choose from!
Natural Stone
Natural stone is most commonly available, although it is more expensive than the other options. Most stones work as pavers. Flagstone, marble, sandstone, limestone, slate, and granite are often see in patios.
Brick
While brick has been around forever, it remains a popular choice of many homeowners. There are a wide variety of textures available and it is strong and resilient. Be wary when shopping because the word "brick" is sometimes used to describe the shape of the stone, rather than the actual material. For example, you might see "concrete bricks," however they aren't technically bricks at all.
Moreover, clay brick pavers have many advantages such as their color retention. They're colored naturally because they are mixed from various types of clay and retain color better than concrete, especially when exposed to UV rays. Although bricks may chip and crack over time due to traffic and moisture, they last for decades! Clay bricks require minimal maintenance as well because of their resistance to staining. Furthermore, bricks have a timeless, charming look and style to them and are also eco-friendly (which we love!!). A lot times they are salvaged, cleaned and reused, which goes along with our commitment to sustainability.
However, a concern is that they can be 15% to 20% more expensive than concrete and they have limited color choices, as well as shape (usually rectangular in shape and) and size. However, it can be fun setting them in unique patterns and exploring the different finishes available to add character.
Concrete
Most recently concrete products have made a resurgence in both the inside and outside of the home. Concrete comes in many different styles and patterns as well and is durable. They're made from cement and aggregate that is poured, compressed, and air cured. Some of the positive attributes associated with concrete pavers are that in can mimic stone and that it is inexpensive because the lower cost of raw materials.
Some cons are that the color in Classic concrete pavers can fade quicker than other choices because sun exposure can damage the pigments that are used to dye them. I would recommend Unilock Enduracolor concrete pavers for long-lasting color or use a sealant to help keep the color rich on the Classic pavers. However, be aware of surface erosion as it takes away the smooth finish and exposes more of the aggregate underneath. In addition, pay attention to the quality when purchasing concrete pavers. The durability and strength will vary depending on how the manufacturer makes it and it can be difficult to know what kind of quality you're paying for at times. For a fun look, check out interlocking concrete pavers! They have tabs and slots so they fit together like puzzle pieces.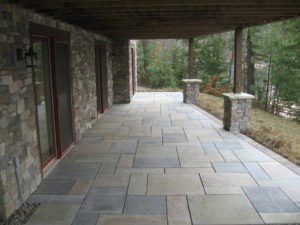 The best part about pavers is…
They are almost maintenance free! Feel free to sweep and clean them regularly to enhance their longevity and appearance if you'd like.To clean most pavers, you can make a mix of 10 parts water to one part vinegar and for brick, try using water and a small bit of detergent. Pressure washers can help them clean as well. In addition, to minimize staining, you can also seal some types of pavers.
If you're unsure which type to go with, remember that you're not confined to only one! Try mixing materials like brick and concrete together or stone with a rock trim, for a neat, unique look to showcase your personality and style. You always have choices! Picking out pavers for your backyard doesn't have to be boring.
Fortunately for you, our hardscaping services allow you to install any type of landscape construction, including patios, walkways, pool areas, and many more. To learn more or to request an estimate, click here.