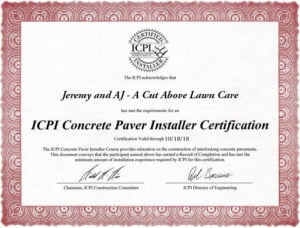 At A Cut Above Lawn Care we are always trying to improve however we can. Sometimes that improvement comes through education, becoming more efficient, staying up to date on most new methods and practices, or some combination of all of those at the same time. Two of our employees, AJ and Jeremy, have just recently returned from New Jersey where they completed a very intense three day course which led to them becoming Certified Concrete Paver Installers (CCPI) and we'd like to take this time to tell you about it.

By taking this course, the guys became well versed in content including job planning and documentation, estimating quantities, job layout and flow, soil characteristics and compaction, base materials, edge restraints, bedding and joint sands, selection and installation of concrete pavers, maintenance and management, specialty applications and construction tips, safety, estimating job cost, and contract basics. All of these come together to provide workers with knowledge from start to completion for a safe, efficient, and beautiful job well done.

These ICPI (Interlocking Concrete Pavement Institute) courses take place throughout the year in different locations across the country, from California to New Jersey. Since the course takes place in a classroom setting, it helps to promote interaction between instructors and other all of the participants taking the course. This can lead to networking opportunities as well as shared stories and tips between industry colleagues from all over. The three day experience concludes with a single exam that participants must pass in order to receive their Record of Completion, which AJ and Jeremy handled mightily.

Big congratulations to AJ and Jeremy, and thank you for your dedication!

For more information on ICPI and CCPI certification, click here to visit their website.