Landscaping with plants native to our region is extremely important for several reasons. Native plants tend to do better in our gardens, require less water, and attract native wildlife to the garden. We wanted to highlight our top 7 favorite native plants to Southern Rhode Island. Don't forget, we can design and plant a native garden for you!
Looking for a native Shrub to add a grand statement or provide a natural privacy screen for an outdoor living space? Try native Winterberry Holly, Ilex verticillata, for a gorgeous statement all year long. Another gorgeous native choice is Swamp azalea, Rhododendron viscosum, which boasts elegant, sweet-smelling white flowers. The foliage also changes to a vibrant orange/maroon in the fall.
If you're planting a perennial garden and want to incorporate native perennials in your design, there are several that are our favorites and will provide a fabulous show year after year.
Wild Red Columbine, Aquilegia canadensis, is a shade-loving beauty that is extremely easy to grow and provides early season color to the garden. New England Aster, or Aster novae-angliae, is a striking Wildflower that attracts butterlies and hummingbirds to the garden, blooming in the late summer to fall.
Wild Geranium, Geranium maculatum, is a woodland native perennial that thrives in wet, shady areas. This gorgeous perennial produces elegant, light-pink blooms in the late spring. Finally, our 7th favorite native plant for Southern Rhode Island is Wild Blue Lupine, or Lupinus perennis. The spiky, bright-blue blooms make a grand statement in the summer garden and are drought tolerant.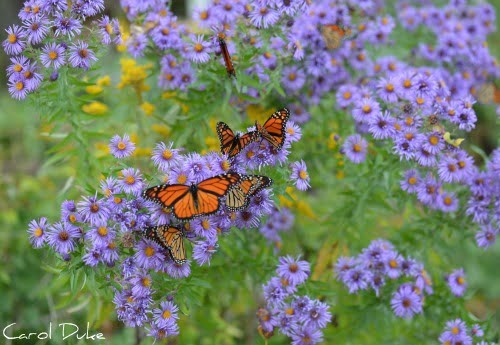 What are your favorite native plants in your garden?