Recently, several members from our team traveled to Kentucky for the GIE & EXPO to learn about new innovations and make connections with landscaping companies throughout the United States. They had a great time networking and trying out all of the new equipment! Their individual highlights are below.
"2013 was another great year for us at the GIE expo. In addition to Omar and myself, it was a pleasure to also bring along Steve Martino this year.
The educational sessions were amazing as usual and we were able to check out some state of the art equipment including an electric commercial mower which we intend to research and possibly purchase to become more of a green company. We thought this would nicely compliment the organic fertilizing programs we are continuing to research and develop.
This year, we also had the opportunity to attend the round table discussions. I personally was able to sit in on a marketing table which gave me some great insight and ideas on what we can implement in our business in the future.
Based on the discussion, we intend to improve our website by adding in some video content and possibly a website re-design in 2014. We also intend to enroll in a call answering service, so we will be able to pick up our phone every single time and completely eliminate the need for voicemail in order to improve our customer service. Lastly, we intend to start offering a 100% satisfaction guarantee on our work to use both as a marketing tool and to improve our customer satisfaction"
– Justin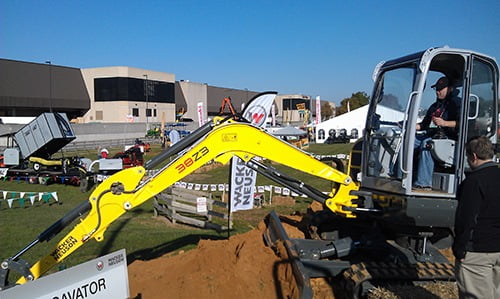 "It was an exhausting week of conferences, roundtables, seminars and product testing. Gladly, we are back and we had a great time. The Green Industry Expo is a great way to see the big picture, make connections, and learn from some of the best in the industry. We hope to bring all this knowledge back and apply it to you – the customer.
At GIE 2013, I had the opportunity to sit with some of the best in the industry in ecosystem science. I got to listen to them speak about their experiences tying hardscaping, landscape installing, and ecosystem building in a clients backyard for a more wholesome outdoor living experience for the client and a more balanced natural approach with the earth and our environment.

I was also on the prowl for new organic fertilizing products and a compost spreader. Expect us next season to expand on our organic fertilizing line as we slowly scale back our synthetic programs.
All in all, we hope to continue bettering ourselves and our services to you. Our goal is to provide you with an pleasant and unique experience that nobody else in the industry can replace." – Omar
"When asked earlier this year by our company owner, Justin Woodford, if I'd like to attend the GIE & Expo in Louisville, Kentucky, I admit – I was skeptical. I had never really been to an industry conference and expo before, so I didn't really know what to expect. I assumed it may not be worth it, a bit boring, and maybe something that's not really for me. Boy, was I wrong.
From the moment we walked into the never-ending Kentucky Exposition Center in Louisville, we didn't stop. And that's a good thing. We met and chatted with other landscape company owners, networked with green industry entrepreneurs, and we even got to play with all sorts of big-boy toys like excavators, back hoes and "the world's fastest lawn mower." Thousands of green industry attendees from all over the country converged upon the expo center for several days of fun and education, and I'm glad I was a part of it. From the workshop classes to the showroom floor, it was more than I could've ever expected and I look forward to next year's expo. One thing I really pulled away from this conference, is that the key to this industry is hard work and good customer service. Without our customers, we wouldn't have a business. This conference has invigorated our commitment to provide the best customer service, and I would recommend the GIE & Expo to anyone who works in the landscape and green industries." – Stephen