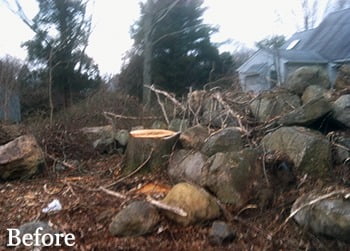 This past winter, the storm Nemo hit Rhode Island pretty hard and with it destroyed many properties. The storm created severe damage in one of our client's back yards. The contractor who had built their house had piled all of the excess boulders they had excavated into one piece of their property. When winter storm Nemo hit, a 60 foot Oak Tree split in half and fell down, exposing all of the rocks that had been underground.
You can see the results in the picture. A huge pile of rocks with really no rhyme or reason to it at all. That's where we stepped in – we knew we could turn their misfortune into a gorgeous outdoor space, without the cost of materials! We are a resourceful, environmentally-conscious company that always strives to use what's already on the property as much as we can. We decided to use everything that was ripped up from the ground to build a raised patio with natural stone steps.
At this point in the project we have excavated, constructed and filled the patio section of the property and are working on completing it with the finishing touches and plantings. Stay tuned for an update on the finished project with pictures!