Hi there! Meet the hardworking people of 855-RILAWNS. If you would like to contact any of our team members, simply click the "Ring Me" button and you will be connected directly to their extension.
Nathan Lofton – Manager
My name is Nate Lofton and I am the manager of 855RILAWNS. Since I was 22 landscaping has become a career and passion of mine that has continued to provide for my young and growing family.
Way back in the summer of 89 it was just a John Deere 332 with a 3 cylinder diesel that my Daddy let me drive. I was 8 years old and he owned a landscaping company called All Season Landscaping. My father let me mow lawns professionally for him on the weekends when I wasn't attending school. I spent a lot of time with him at work through the years because he's the hardest working man I have ever met. Dad wasn't home much so if I wanted to hang out with with him we were working.
This is where my strong work ethic started early passed down by the lessons learned working with my dad throughout the years. Since the good old days with Dad landscaping through high school I have stayed involved with turf grass management and consider myself an expert in the industry.
Through the years I have come a long way since that summer in 89 personally and professionally. Yet, I still find myself turning back to my roots and seeking dad's advise, the wise man he is.
The green industry has become a passion of mine and I a student of hers always learning always growing. Like my father I enjoy teaching whether it be my sons, my daughter, or my employees. I am grateful for the opportunity I have been given to pass along and utilize the skills I have gathered at 855RILAWNS. If I can make a positive impact in another's life whether it be personally or professionally, employee, customer, or friend, that's a job well done in my book of life.
Loretta Carlone – Office Administrator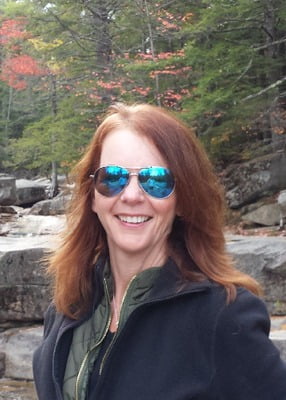 My name is Loretta Carlone and I am the office administrator at 855-RILAWNS. In my position, I provide support for the manager as well as the owner. I perform all administrative duties for the office as well as updating our social media.I have over thirty years in the customer service field and enjoy working with our customers to help them learn how to achieve the property of their dreams.
I grew up in Alabama and moved to Rhode Island as a teen. Proud to call South County home, I've raised my two girls here and love working for a company that is committed to sustainable lawn care and customer service.
Chris Emery – Senior Horticulturist
Hi, my name is Chris Emery. I grew up in South County Rhode Island and wouldn't want it any other way. I graduated from the MET High school in Providence and attended Manhattanville College in New York, where I studied biology.
I have always had an affinity for nature and wildlife but never saw how to make an occupation out of it until I started working with the 855-RILAWNS family. It is inspiring how dedicated they are to the preservation and the cultivation of the environment of Southern Rhode Island. After a season of apprenticing with Stephen Torrisi and Omar Fahmy, and proving my great work ethic, I decided to further my career with the 855-RILAWNS family. As of 2016, I am a Rhode Island Certified Horticulturist and working on my Invasive Plant Manager Certification.
As a very detail oriented personality, I strive to help customers achieve their ideal property whether it be through regular clean ups, trimming and pruning. No aspiration is too big or out of reach when we're on the job and please feel free to share your ideas with us because our goal is customer satisfaction.
Justin Woodford – Founder
My name is Justin Woodford, and I am the founder of the company. I graduated from South Kingstown High School in 2003 and then moved on to attend URI where I obtained a Bachelors degree in Electrical Engineering with a minor in Business in 2008. In 2005, I ran a franchise through College Pro Painters and from 2006 – 2010, worked closely with my brother Dan developing Two Brothers Quality Painting. Although my brother Dan and I still consult daily with the painting business, 855-RILAWNS is my primary focus.
I still vividly recall summers landscaping with my good friends, and it is important to me that that culture continues so others can have the experience I had. I loved my job, and I want them to love theirs. For this reason, I have tried to continue this culture of friends working with friends.
My job is to keep the company running as smoothly as possible by having solutions before problems arise. I find the best organizational systems and structures to put in place to keep everyone marching to the same beat. I handle most of the marketing, IT, and financial management of the company.
My goal has been to keep the company growing so we are able to continue to provide growth opportunities to our employees. My secondary goal is to revolutionize the landscaping industry by providing green alternatives to existing practices at comparable pricing. Since 2015 we have completely seized the use of pesticides, and our goal for the near future is to start utilizing electric equipment as soon as the technology becomes logistically practical.
It has been a great experience to watch the company grow from the little kid knocking on the door to the living, breathing, professional organization it has become.