The fact of the matter is, manicured lawns continually are removing nutrients from the lawn. Chemical lawn applicators solve this problem by constantly feeding the lawn chemicals it needs to thrive. This has created an ecosystem that becomes dependent on these chemicals so as soon as they stop, the lawn struggles.
---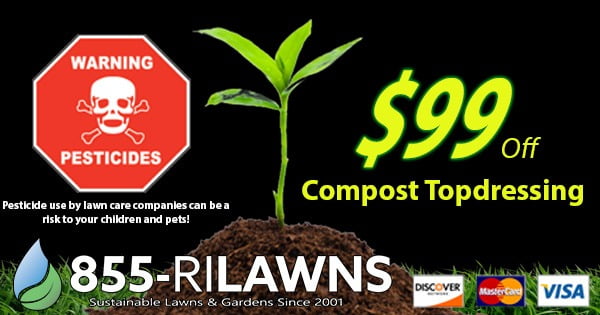 ---
In the coming weeks we will be topdressing properties with a 1/8″ layer of compost. Now through July 24th we are offering $99 off this service for the first 25 accepted estimates!
---
Please fill out the form below receive your promotional quote!
---
---
What our customers have to say…
Justin's expertise in running a landscaping business is exceptional! He is helpful, logical, attentive and very prompt in his replies. His professional consultation has helped us immensely. We are extremely pleased to have crossed paths.

Cate Feck Deehan


2/09/2019

Due to increasing allergy problems, yard work became a seriously unpleasant chore, taking hours and usually meaning at least a day or two with extra itching, sneezing, and watery eyes. We saw a little ad on a post at the bottom of our street, and decided to check them out. We are so glad we did. These folks are great! Everyone is local and friendly, and are truly happy to have our business. We even had some improvements done to the yard; with help from Chris, Jace, and Nathan, we were able to get beautiful, thriving plants and gorgeous stones/mulch.

Gina L-R


4/25/2019

855-RILawns was wonderful to work with. The team that showed up to remove all of our leaves, mow and clean out gutters was efficient and professional, they did an amazing and very thorough job, we were 100% satisfied and would not hesitate to recommend them to others. Loretta and Nathan were so easy to communicate with via email or phone, their prices are very affordable and fair and we definitely plan to use them for additional services in the future.

Chelcy Abbott


12/26/2018

Wow! So impressed! Called and had a quote in a few days and they were at or place mowing/trimming/edging everything we had let go the past 2 months in less than a week! Super affordable, very friendly and knowledge staff, tech savvy (easy to email, online portal for billing account, notification of when they will be mowing). Yard looks better than ever at an affordable price! So we can spend more time actually enjoying it and not dreading it 🙂 So glad we found them!!!

Camia Dimock


6/27/2018